 
Yuneec Mantis G
Dron Mantis G z kamera 4K ze stabilizacją
Darmowa dostawa od 500 zł. Kurier DPD.

14 dni na zwrot towaru.

Aby zamówić wyślij wiadomość na adres [email protected]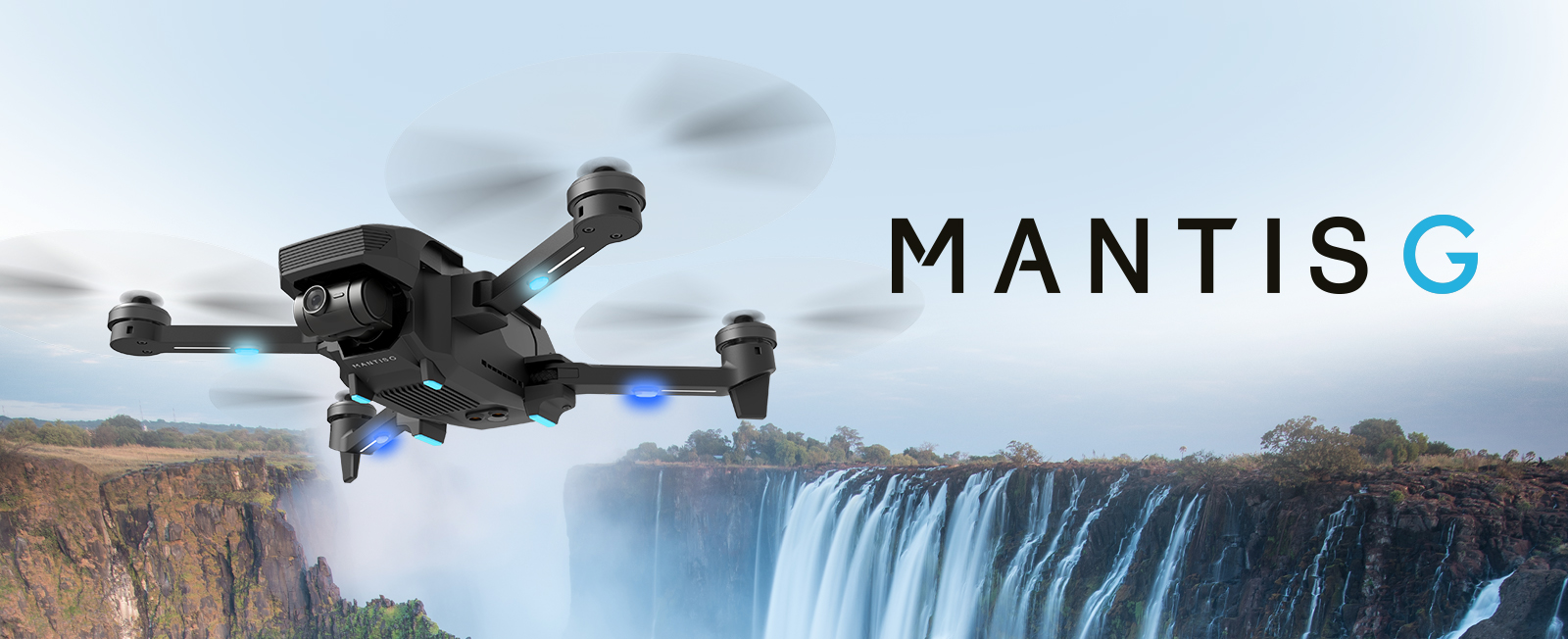 YUNEEC MANTIS

 

G
Składany dron z gimbalem

_____

POKAŻ SWOJĄ HISTORIĘ

 

Nowy dron Mantis G jest idealnym dodatkiem dla Twojej historii na Instagramie, Twojego filmu z wakacji lub popołudnia z przyjaciółmi. Otwórz go, włącz go i patrz jak leci: teraz łatwo jest tworzyć zdjęcia i filmy wideo z zupełnie nowej perspektywy. Dzięki nowemu zintegrowanemu gimbalowi, możesz tworzyć płynne filmy w rozdzielczościach Full HD i 4K - nie wspominając już o wyjątkowo ostrych zdjęciach. Pojedyncze ładowanie baterii daje ponad 30 minut czasu lotu, a kontroler lotu Mantisa G: PX4 gwarantuje, że nie zabraknie Ci zabawy podczas lotu i niemal legendarnej stabilności. Mantis G - tworzenie treści na nowym poziomie!
 Gimbal

mechaniczny

Płynne wideo, ostre obrazy - z nowej perspektywy

 

Rozdzielczość

Wideo

Nagrywaj wideo w 4K w formacie MP4

 

Kontrola

Głosem

Kontroluj swojego Mantisa G komendami głosowymi

 

 Automatyczne

Tryby Lotu

Inteligentne tryby lotu dla imponujących zdjęć i filmów
 

_____

4K NA WYNOS

 

Nieważne, czy jesteś łowcą snapshotów, królową selfików, czy vloggerem: Mantis G jest zawsze gotowy do spontanicznych nagrań. Dzięki wbudowanej kamerze na gimbalu, składany dron rejestruje stabilizowane filmy w 4K i zdjęcia w formacie JPEG lub DNG. Mantis G został wyposażony w technologię inteligentnego przesyłu obrazu, oraz w nowość, jaką jest redundantna transmisja sygnału 2,4 i 5 GHz, dzięki czemu znacznie zwiększyliśmy zasięg  podglądu obrazu na żywo do około 2 km.

_____

ROZSZERZONE STEROWANIE GŁOSEM

Wake up, Mantis - take off! Te kilka słów sprawi, że twój mały kumpel będzie w powietrzu w mgnieniu oka. Jeśli chcesz, możesz w pełni kontrolować Mantisa G za pomocą poleceń głosowych oraz nagrywać w ten sposób filmy i zdjęcia. Mantis słucha Twoich wskazówek, niezależnie od tego, czy są one w języku angielskim, niemieckim czy francuskim. Bez względu na to, czy chodzi o wystartowanie, lądowanie, czy też robienie zdjęć i filmów wideo: Za pomocą takich poleceń, jak "Wróć" (Come back) i "Rozpocznij nagrywanie" (Start recording), można łatwo sterować Mantisem G.

 
 _____
MANTIS ROBI TO PO TWOJEMU
Z nową funkcją "Waypoint", możesz wskazać swojemu Mantisowi G na mapie dokąd ma polecieć. Pozwala to zaplanować trasy lotu z wyprzedzeniem w celu uzyskania idealnego ujęcia. Apropos mapy: W sytuacji nieoczekiwanego lądowania, będziesz w stanie znaleźć na niej swojego Mantisa G. W przypadku materiałów filmowych w hollywoodzkim stylu, dostępne są inteligentne tryby automatycznego lotu, takie jak "Journey", "Point of Interest" lub "Visual Tracking", który pozwala dronowi na ciągłe śledzenie zaznaczonego celu.
Waypoint

Zaplanuj trasę lotu z wyprzedzeniem na mapie, a Mantis G poleci od jednego punktu do kolejnego.

Visual Tracking

Zaznacz na ekranie siebie lub dowolny obiekt, który chcesz śledzić, a Mantis G podąży za nim.

Cinema

W tym trybie lotu Mantis G leci stabilnie i powoli, rejestrując każdy szczegół - dla prawdziwego hollywoodzkiego ujęcia.

 
 
 

 Tryb Journey

Mantis G będzie lecieć do góry po ścieżce liniowej, a następnie automatycznie wracać - w zależności od wprowadzonego ustawienia.

 Point of Interest

Wybierz i zatwierdź obiekt, a Mantis G automatycznie zacznie krążyć wokół niego w trybie POI

 Powrót do domu

Mantis G automatycznie powraca do punktu znajdującego się w pobliżu miejsca startu - po naciśnięciu przycisku Return Home.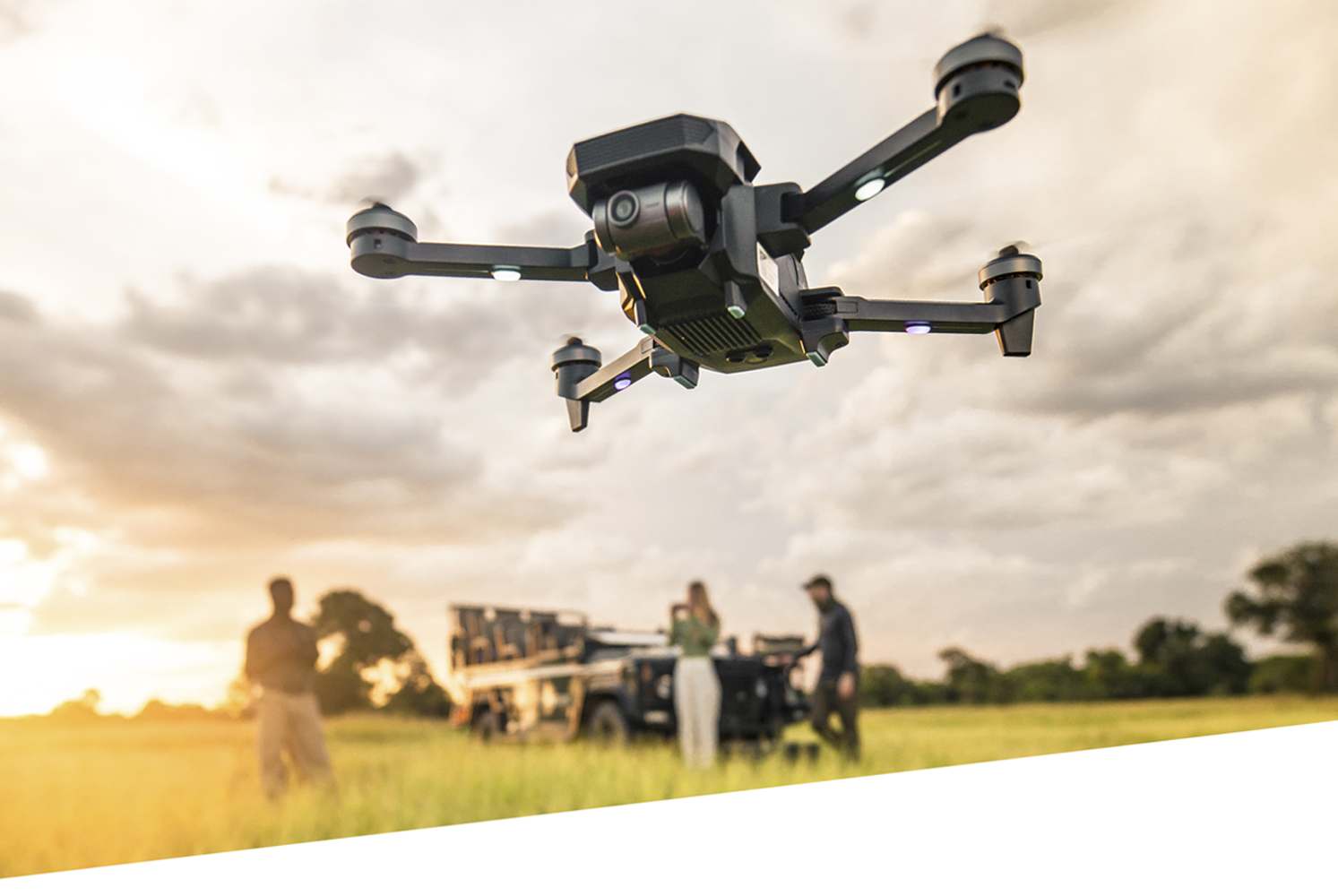 _____

SELFIE DRON DELUXE

 

3, 2, 1.... uśmiech! Czy to poprzez zintegrowane rozpoznawanie twarzy, czy też sterowanie gestami, każde zdjęcie Mantisa G jest hitem. Jeśli chcesz zrobić w przerwie kilka szybkich ujęć, po prostu uruchom funkcję Smart Shot, a Mantis G automatycznie zrobi kilka imponujących zdjęć. Funkcja Instant Sharing pozwala na przesyłanie zdjęć i filmów bezpośrednio z aplikacji do mediów społecznościowych, dzięki czemu można się nimi dzielić z przyjaciółmi.
 

 

BEZPIECZNE LATANIE

Dron jest wyposażony w funkcje bezpieczeństwa, takie jak redundantny (podwójny) sygnał sterujący, czy regulowany "wirtualny płot" (tzw. geofence), który zapewnia, że Mantis nie przekroczy określonej odległości od operatora.
 

SZYBCY I SZYBSI

Dzięki dołączonemu kontrolerowi i ulepszonemu systemowi pozycjonowania IPS (Indoor Positioning System), można latać zarówno wewnątrz, jak i na zewnątrz pomieszczeń w stabilny i precyzyjnie kontrolowany sposób. Mantis G rozwija niesamowitą prędkość maksymalną 72 km/h w trybie Sport i jest nie tylko cichy, ale również bardzo energooszczędny.

 
 

 

 SERCE Z OTWARTYM KODEM ŹRÓDŁOWYM

Kontroler lotu Mantis G. oparty jest na znanym otwartym oprogramowaniu Dronecode Project PX4. Oznacza to, że będziesz miał najwyższy poziom stabilności i niezawodności - i dużo zabawy w lataniu.
_____

NAJWAŻNIEJSZE CECHY MANTISA G W SKRÓCIE

 

Składany i lekki dron z kamerą 4K stabilizowaną gimbalem

Do 33 minut czasu lotu i maksymalna prędkość 72 km/h (tryb sportowy)

Rozszerzone sterowanie głosem w języku angielskim, niemieckim i francuskim.

Inteligentne tryby lotu automatycznego, takie jak lot po punktach (Waypoint), śledzenie wizualne (Visual Tracking), powrót do domu (Return to Home) i inteligentne zdjęcia (Smart Shots)

Aparatura sterująca z redundantnym sygnałem sterującym (2,4 i 5 GHz).

Stabilny i niezawodny kontroler lotu oparty na PX4.

Do stosowania wewnątrz i na zewnątrz dzięki systemowi pozycjonowania wewnątrz i na zewnątrz pomieszczeń.

Wyświetlanie położenia geofence'u i drona na mapie
Specyfikacja techniczna
DRON

Masa startowa: 505 g

Czas lotu: do 33 min. (warunki bezwietrzne, jednostajny lot z prędkością 25 km/h)

Wymiary:

250 x 195 x 60 mm (rozłożony)

171 x 97 x 60 mm (złożony)

Prędkość maksymalna:

Tryb angle: 16 km/h


Tryb Manual: 72 km/h

Tryb Sport: 72 km/h

Tryb IPS: 14,4 km/h

Sterowanie telefonem: 18 km/h

Akumulator: 3S, LiHV

Temperatura pracy: 0 - 40 stopni C


System GNSS: GPS, Glonass

 

APARATURA STERUJĄCA

Ilość kanałów: 10

Zasięg: do 2 km (CE, w warunkach optymalnych)


Akumulator: 1S, 3,7V 3000mAh (wbudowana)

 

APLIKACJA

Wymagany system operacyjny: iOS9.0 lub wyższy (kontrola głosem wymaga iOS 10 lub wyższy, od iOS 11 możliwa kontrola głosu bez łączności z internetem) // Android 5.0 lub wyższy (kontrola głosem wymaga połączenia z internetem)

KAMERA

Matryca: 1/3.06 cala CMOS

Rozdzielczość zdjęć: 4:3 (4160x3120); 16:9 (4160x2340)

Rozdzielczość filmów:

4K: 3840 x 2160 30 fps


2.7K: 2704 x 1520 30 fps

1080p: 1920 x 1080 30 fps / 60 fps

720p: 1280 x 720 60 fps

Format zdjęć: JPEG / JPEG + DNG

Format filmów: MP4/MOV


Stabilizacja obrazu: mechaniczna (gimbal)

Zakres kontroli ruchu gimbala: -90 do 15 stopni

Pole widzenia: 117 stopni

Ogniskowa: 21,5 mm (ekwiwalent 35mm)

Pamięć wbudowana:  16 GB (rozszerzalna za pomocą karty microSD)

Kompatybilne karty microSD: Class 10 U1/U3, max. 128 GB

Zakres ISO: 100 - 3200

Zakres czasu naświetlania: Zdjęcia: 8s - 1/8000s; Filmy: 1/30 - 1/8000

Korekcja ekspozycji: +/- 0, 0.5, 1.0, 1.5, 2.0, 2.5, 3.0

Balans bieli: Auto, Zablokowany, Słonecznie, Pochmurnie, Fluorescencyjne, Żarowe

Tryby kolorów: Naturalne, Nasycone, Miękkie

Tryby pomiaru: punktowy, centralny, uśredniony

Tryby wyzwalania migawki: normalny, gesty, rozpoznanie twarzy

Prędkość pobierania zdjęć z pamięci wewn.: 2 MB/s
Zawartość zestawu YUNMQEU
Dron Mantis Q,

Aparatura,

Akumulator (1szt.),

Śmigła (4szt.),

Ładowarka Hub na 3 porty + kabel zasilający,

Kabel USB